2 Davids Web Design, Hosting & Technology
Tips and tricks we use to help your site succeed and new technology announcements, trends, and special finds.
8 minutes reading time
(1584 words)
Basic Checklist for How to Rank in Google Places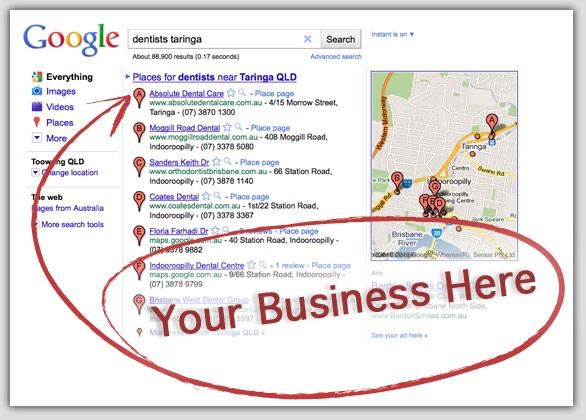 Basic Checklist for How to Rank in Google Places
Article from Web Market Today - Written by Chris Silver Smith

How to rank in Google Local Searches:
Google Place Search, and Google Maps is mystifying to many small business owners. I've tried to cut through the complexity and misinformation with this simple checklist.
If you're wondering how to enable your business to rank well when people search for your products and services in your city and area, these tips can help you establish yourself pretty thoroughly. Since many businesses do a poor or haphazard job of optimizing themselves to be found in local search results, just following the steps in this checklist may position you for some of the top rankings for your type of business in your city.
This checklist is in rough order of importance, and some of the steps are a bit sequential. So follow the list in order.
How to Rank in Google Places Checklist
Select a good domain name. If you don't already have one, select a good domain name for your website. Go with a domain name that reflects your business's name or the business category name for your company, such as "SmithBrosAtlantaPlumbers.com" or "AtlantaPlumbers.com." For more in-depth suggestions, read my personal blog post "Local SEO 101: Domain Naming."
Have a good website. It doesn't have to be expensive or include tons of bells and whistles. Don't try to out-do others or you might pay too much money or become paralyzed by trying to get it built and published. In fact, Google can more easily interpret simpler websites. When deciding how to set it up, use WordPress as a content management system, because WordPress has an automatic advantage in search rankings, fresh out of the box. Not to mention, using WordPress makes it easy for nontechnical people to perform simple updates and redesign the look of the site rapidly in the future. See "SEO Friendly URLs for WordPress," my previous post.
Include your phone number and street address on the site's home page and contact or locations page. Also, if you offer services to a number of distinct neighborhoods, districts, or city names in your area, it can't hurt to list these areas in an "Offering Services To" section on your home page.
Perform keyword research. Use the right keywords to make your business findable by the majority of consumers seeking your type of company. Don't assume you know the most-popular phrases used to find your business; research keywords with Google tools to be sure, and to discover related phrases that may have become recently popular. Incorporate the keywords you discover throughout the written text in your site.
Include "services" or "products" pages on your site over time. You don't have to do everything at once — your site can be a growing asset, and as you include more information about what you do and what you offer, the site can become more and more robust in keywords that Google can match up with user searches. See my previous post, "12 Quality Signals that Improve Rankings," for additional standard items to add to your site to beef up the search engines' trust of your company.
Expand your basic business information. Add other basic information to your business website that people commonly look for. This includes: hours of operation, maps and driving directions, menus, prices, amenities, cost or quality differentiators, discounts and special offers, seasonal events, and the names of owners and employees.
Establish local citations. "Local citations" are any online mentions of your company, especially mentions with the phone number or business address. So, getting your business listed in a good number of high-quality online directories is vital. The more high-quality sites appropriate for your type of business you can get listed in, the better. Think of online yellow pages like YellowPages.com, Superpages.com, andCitysearch.com. Also think of reviews sites like Yelp and Angie's List, as well as category-specific "vertical" directories that match your business type, such asHotels.com for hotels, FindLaw for lawyers, Contractors.com for contractors, andUrbanspoon for restaurants. Building out your business listings and business profiles on all of these sites helps rankings a lot, but it's also time consuming and the details can be tricky. There are companies — such as Universal Business Listing, Neustar's LocalEze, and Infogroup's Express Update. — that help distribute your listing information to major directories and local search engines. It may be wise to use one or more of them for this purpose. Read "Local Search: Understanding 'Citations' to Improve Rankings," my earlier post, for more information about citations.
Develop inbound links. Links continue to be important and influential to search engine rankings, so developing links to your site is important. The work to establish Local Citations also results in more links from reputable sources, so you may not need to obsess about this tip so much if you've done the other. Link building is also fraught with risk, since so many people do it in a poor manner, resulting in getting penalized. To read up on what not to do, check out my post on "How Not To Build Links For SEO."
Claim your listing in Google and Bing. Once your listings have been distributed for a couple of months, chances are that Google and Bing will have absorbed your business information into their local databases and will begin displaying them in local searches and map searches. To check this, search by your business name in maps for your area, and see if your listing is shown in the search results. You can click to view the business information in the search engines, and then select to claim the listing to update it. If your listing hasn't already appeared, you can wait patiently, or you can try to jump-start the process by adding your listing. Usually the claiming or verification process takes a few weeks, because Google and Bing will call you or send a postcard to make sure your business is located where you say and that you have authority to update the information. Once you have access to update, carefully select business categories, and add as much relevant information about your company as you can. Coordinating your Google Place listing with your company's Google+ page is still tricky at the time of writing this. You may want to explore your options carefully or tap a professional to help navigate this.
Integrate with Google+ Local. Coordinating your business information with Google+ is advantageous as Google continues to promote that service. Setting up a personal profile on Google+ for yourself or for a prominent employee at your business can help make your search listings more attractive, since the profile picture of your personal profile may be displayed with pages of your site in Google if you set it up correctly. To do this, read my article, "Authorship: The Top Search Marketing Tactic in 2013." Read, also, "Google+ Local Creates Need For 'Local Social' Strategy," my previous article, for more context.
Blog. Seriously, just start blogging about things involving your company and your industry or products. Blogging provides a means of developing the keyword content of a site over time. Moreover, blogging is significantly rewarded by the search engines. It also provides you with a format for creating numerous "doors" by which consumers could come into your business. If your site is configured on WordPress, then it won't take much to set up the blog section and begin blogging. Blogs also provide fodder for social media updates, which is the next tip in our checklist. Read more in "Your Blog is Key to Search Engine Optimization." Also, decide how you want to set up your blog: a subdomain or a subdirectory.
Dive into social media. Social profiles and social media update posts can provide a constant influx of citations and links for your business. Google and Bing are increasingly using unique social signals for ranking determinations, too. Integrate with the social media services that make sense for you. Facebook, Twitter, Google+, LinkedIn, Pinterest, Flickr, Instagram, YouTube, and Tumblr are all influential. Also,social media check-in services help local SEO, too.
Develop your business's influence and engagement levels in social media.Numbers of followers are good, so long as those followers are also influential and engaged. Klout and Kred are both free services that can help you get an independent picture of how much influence and engagement levels you're achieving for your business through social media.
Summary
If you're in a hotly contested category and market area, you might have to go to a lot more effort than merely accomplishing these basics. Just think about it. If you're in a city where there are hundreds or thousands of businesses similar to yours, and Google only displays the top seven businesses on the first page of search results, chances are good that many of your competitors are also doing the basics. If you need more advanced, aggressive work, consider hiring a professional to assess your local search optimization program and get recommendations and help for improvement.
But, for a great many businesses, these basics will give a leg-up, and even an advantage, since so few companies are doing all of these things or even doing all of them well or consistently. Local SEO isn't rocket science. But it takes concerted effort and consistency to achieve and keep top rankings.
Location (Map)
Stay Informed
When you subscribe to the blog, we will send you an e-mail when there are new updates on the site so you wouldn't miss them.